Join us for this Aquatic Invasive Species (AIS) event that is open to all ages – a fun educational activity for families, lakes owners, youth groups, etc. The Ripple Lake boat access will be the 2021 Aitkin County training site. Training will discuss how to identify native aquatic vs look alike invasive aquatics. Each group will have an opportunity to sample at least 2 Aitkin County lakes. This event is sponsored by UMN Extension AIS Detector program and Aitkin County Soil & Water Conservation District.
About this event
Starry stonewort is an invasive algae that was first found in Lake Koronis in 2015 and has since spread to 14 Minnesota lakes. Now we are asking for your help in searching other lakes to better understand its distribution in Minnesota. You can learn more about starry stonewort here.
You will be teaming up with volunteers across the state as well as volunteers in Wisconsin participating in a sister event (AIS Snapshot Day) to help in the early detection of aquatic invasive species. During our inaugural event in 2017, volunteers participating in Starry Trek discovered a new population of starry stonewort in Grand Lake (Stearns County). As a result of this discovery the local lake association and MN DNR teamed up in a rapid response plan to remove the small patch of starry stonewort and have since been able to limit the spread of the population in Grand Lake beyond the boat launch area it was initially discovered at.
Local training sites are located across the state and will be hosted by local agencies and organizations to search nearby locations (see map). Participants will meet at the local training site in the morning and will be assigned sites to search upon arrival. All participants will need to return to the local training site to check-in and turn in an specimens and datasheets at the end of the day. No experience necessary! Participants under the age of 18 will need to be accompanied by a parent or legal guardian. Youth clubs (scouts, 4-H, etc.) can contact Megan Weber mmweber@umn.edu to learn how to participate as a club.
Click the "Register" button to view the list of local training sites and to register to participate at a location near you! You will receive an e-mail with additional details about your location, including your local coordinator's contact information. Volunteers will receive a complimentary tote bag for participating in this free event (guaranteed availability for all volunteers registered prior by August 15th).
In the event of inclement weather, local sites will move the event to August 22nd (following the same schedule). You will be notified via e-mail if your local training site site is impacted by inclement weather.
Click here to view an interactive map of Starry Trek rendezvous locations and find a site near you!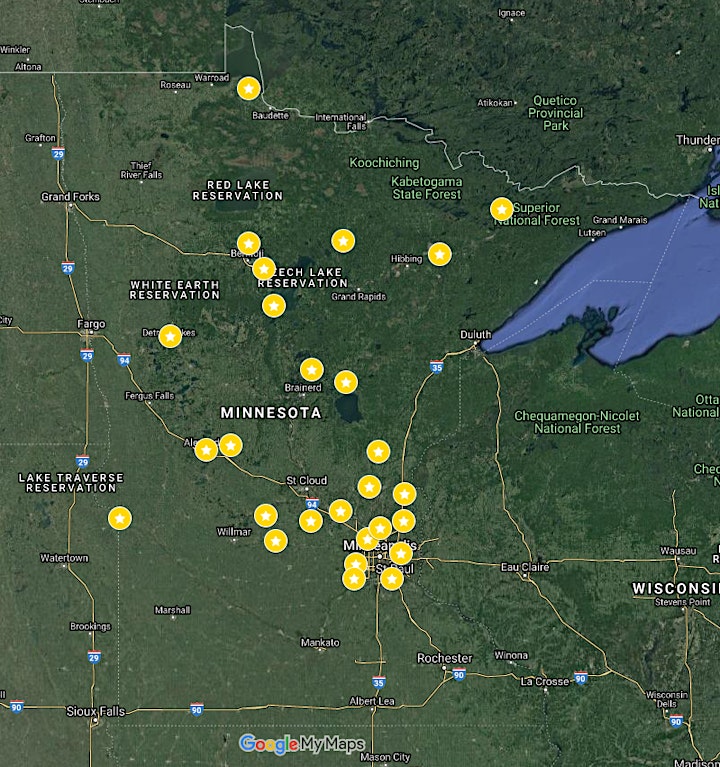 IMPORTANT COVID-19 INFORMATION
We anticipate our 2021 event to more closely resemble our pre-COVID procedures. All state and local guidelines and mandates should be followed while participating in Starry Trek. Unvaccinated individuals are encouraged to wear a mask and practice physical distancing and are required to wear masks indoors (almost all of this year's local training sites are outdoors). As always, please stay home if you are sick.
Register For Starry Trek Using This Link!